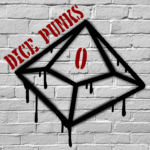 Our Nobilis meet some colleagues from a distant land, but conflict finds them, and they must deal with the fallout.
---
As the poet said… "Trul" by Therion.
Alternative title for this episode: "The God, the Bat, and the Rocky"
---
"Theme of the Dice Punks" and its acoustic version by Drew Messinger-Michaels.
Art by Joanne Spotswood.
Visit us on the web at dicepunks.com and on Twitter at @dicepunks, or email us as dicepunks@gmail.com! Our Patreon is www.patreon.com/DicePunks — backers can gain access to our patron-only Discord, Dice Peeks aftershow, and more!