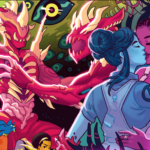 Surprise! There's a TTRPG by Heather Flowers and Aura Belle set in the Extreme Meatpunks Forever universe and we here at Dice Punks were favored with an advance copy of the rulebook! We were so excited, we decided to surprise everyone with a one-shot GMed by Drew, and it was a blast – we hope you enjoy it!
Content warnings are given by Drew at the beginning, but include: body horror, dysmorphia, dismemberment, political violence, and gore. As he notes, we're not being edgelords, that's just the stuff you can expect when meatpunks and fash clash!
Check out Extreme Meatpunks Forever, the TTRPG preorder and the video games!
---
---
"Mas Dida" and the acoustic version of "Theme of the Dice Punks" by Drew Messinger-Michaels.
Cover art from Paulina Ganucheau's cover art for the TTRPG of EXTREME MEATPUNKS FOREVER.
Visit us on the web at dicepunks.com and on Twitter at @dicepunks, or email us as dicepunks@gmail.com! Our Patreon is www.patreon.com/DicePunks — backers can gain access to our patron-only Discord, Dice Peeks aftershow, and more!