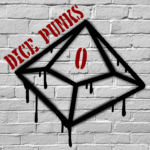 Our Nobilis visit a new Chancel, and an old friend, and learn some things they don't much like…
---
As the poet said… "Running Up That Hill" by Kate Bush. (For the record, this episode was recorded in April of 2022, a good month before Stranger Things Season 4 made this song a meme, briefly. This is the sort of thing that Adam gets his brain stuck on sometimes.)
Þockborr. Þockborr. Þockborr. ÞOCKBORR!
---
"Theme of the Dice Punks" and its acoustic version by Drew Messinger-Michaels.
Art by Joanne Spotswood.
Visit us on the web at dicepunks.com and on Twitter at @dicepunks, or email us as dicepunks@gmail.com! Our Patreon is www.patreon.com/DicePunks — backers can gain access to our patron-only Discord, Dice Peeks aftershow, and more!