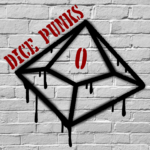 Nightfall continues! In this episode, our exhausted Nobilis finally get some time to rest, recover, and get further embroiled in the lives of Fermatans!
---
Drew's new album, "When This Ends," can be heard on his Carpe Demon Bandcamp page!
We eventually get it consistently right, but there are a couple of Kayas (KAI-uhs) when we meant to say Kaya (KAY-uh).
There were two different issues with tracks having recording artifacts this time, though both had at least partial solutions we're happy with. You may hear some hints of their presence, though, for which we apologize!
As the poet said… "Holy Diver," by Dio.
---
"Theme of the Dice Punks" and its acoustic version by Drew Messinger-Michaels.
Art by Joanne Spotswood.
Visit us on the web at dicepunks.com and on Twitter at @dicepunks, or email us as dicepunks@gmail.com! Our Patreon is www.patreon.com/DicePunks — backers can gain access to our patron-only Discord, Dice Peeks aftershow, and more!
---
Dice Punks is licensed under a Creative Commons Attribution-NonCommercial 4.0 International License.