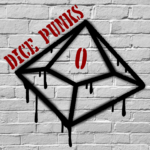 Nightfall continues! In this episode, our dear Nobilis return to Fermata very tired, and confront their god about the work they've been given…
---
Alternate episode titles include "Lament of the Would-Be Labor Organizer" and "Forced Arbitration"
Might be our wooliest and punchiest episode to date! Among the audio and other issues at play in this episode: Mic issues, dog noise (courtesy of Absinthe & Violet), cat noise (courtesy of Farious), a hard cut-off time, Adam knocking over his mic laughing mid-session, new-teaching-term-related sleep deprivation, and being recorded 3 days after the January 6th Capitol Insurrection of 2021 here in the U.S. o_0
A well-known dramatization of Dask & Lyssa's conversation upon returning to Fermata, courtesy of Mitchell & Webb.
Lyssa's final form, as per Robin (via Voltron, Dragonball Z, and pop culture in general). Bonus Steven Universe reference as palette cleanser!
As the poet said… "Illuminate," by Project 86
---
"Theme of the Dice Punks" and its acoustic version by Drew Messinger-Michaels.
Art by Joanne Spotswood.
Visit us on the web at dicepunks.com and on Twitter at @dicepunks, or email us as dicepunks@gmail.com! Our Patreon is www.patreon.com/DicePunks — backers can gain access to our patron-only Discord, Dice Peeks aftershow, and more!
---
Dice Punks is licensed under a Creative Commons Attribution-NonCommercial 4.0 International License.