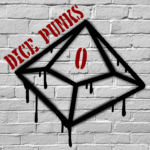 Our Nobilis learn about one another, meet a merchant, and discover more about what's actually going on in the Vales… and maybe how they can fix it!
---
As the poet said… "Wondrous World of Punt" by Therion.
Bloodstones, specifically in circles, are a part of the world of the excellent Welcome to Night Vale, though of course the naming here is nothing more than an amusing coincidence.
This is, as far as we can reckon, the first episode in which Lyssa's Lucky Advantage has actually paid off! Huzzah!
Lyssa made a reference with "Rage, rage against the [coming] of the light!" The original line was penned by Welsh poet Dylan Thomas.
---
"Theme of the Dice Punks" and its acoustic version by Drew Messinger-Michaels.
Art by Joanne Spotswood.
Visit us on the web at dicepunks.com and on Twitter at @dicepunks, or email us as dicepunks@gmail.com! Our Patreon is www.patreon.com/DicePunks — backers can gain access to our patron-only Discord, Dice Peeks aftershow, and more!