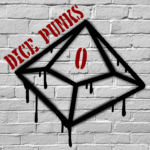 In this episode, the players and Hollyhock God of the Nightfall campaign look back on the last two years of podcasting, and have a wide-ranging, Q&A session with some Dice Peeks energy and discussion thrown in. We hope you enjoy it!
---
As the poet said… "The End of the Rope" by They Might Be Giants.
---
"Cliffhanger Fanfare," "Theme of the Dice Punks" and its acoustic version by Drew Messinger-Michaels."
Art and editing by Joanne Spotswood.
Visit us on the web at dicepunks.com and on Twitter (for now), Cohost, and Tumblr at @dicepunks!