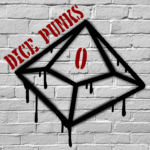 In this episode, our Nobilis make a great start of the daunting task of ending the war between the gods, one way or another…
---
Scheduling Note: This episode is the first part of a marathon, nearly-12-hour recording session we Punks did to give Nightfall the send-off it deserves. During that, we identified a few good potential stopping points where the episode could be split up if needed, since editing 12ish hours of four people's audio is a task it's hard to predict the duration of.
And it's good we did, because despite planning ahead, life has prevented Joanne and Adam from getting the whole thing ready for airtime by the day this goes live, September 1st! That said, we want to avoid making our wonderful listeners wait a whole half a month to hear the rest if we're at all able, so here's the plan:
This first part is for you to enjoy right this instant, the next part will go up as soon as it's ready, and we'll be putting these finale episodes' combined Dice Peeks after-show in the main feed, for all to enjoy! After that, for September 15th, we'll be posting a retrospective episode covering the whole campaign. October 1st and 15th will be our… triumphant? …return to Extreme Meatpunks Forever (GMed once more by the inimitable Drew!), and we'll have something special for you on HALLOWEEN! Finally, Des's Unknown Armies miniseries will begin airing on November 15th, and our next full campaign, Hard Wired Island, will begin after that.
---
As the poet said… "Paper Airplane Machine" by Meriwether.
---
"Theme of the Dice Punks" and its acoustic version by Drew Messinger-Michaels.
Art and editing by Joanne Spotswood.
Visit us on the web at dicepunks.com and on Twitter (for now), Cohost, and Tumblr at @dicepunks