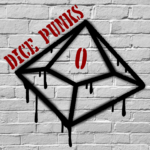 Nightfall continues! In this episode, our justifiably concerned Nobilis visit the city at the heart of Taraxis with the mandate to stifle its autumn festivities, but aren't clear about how or why.
---
---
"Theme of the Dice Punks" and its acoustic version by Drew Messinger-Michaels.
Art by Joanne Spotswood.
Visit us on the web at dicepunks.com and on Twitter at @dicepunks, or email us as dicepunks@gmail.com! Our Patreon is www.patreon.com/DicePunks — backers can gain access to our patron-only Discord, Dice Peeks aftershow, and more!
---
Dice Punks is licensed under a Creative Commons Attribution-NonCommercial 4.0 International License.