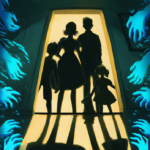 Drew GMs this ~Halloween Special~ in Anna Landin and Jonah Baumann's Something is Wrong With This House! Listen to hear about the the worst family, with the worst dad, and the worst variation of a "Live, Laugh, Love" sign, and all the horrible things our player-characters do to them to get them to leave… up to and including (shudder) playing Kinect!!
---
As the poet once said… "Damn These Vampires" by The Mountain Goats.
---
"Midnight March for Haunted Things" is by Drew Blood and Robin Graves.
Cover art by Anna Landin for Something Is Wrong With This House.
Visit us on the web at dicepunks.com and on Cohost & Tumblr at @dicepunks, or email us as dicepunks@gmail.com! Our Patreon is www.patreon.com/DicePunks — backers can gain access to our patron-only Discord, Dice Peeks after-show, and more!