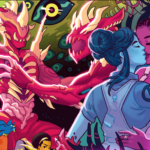 Drew brings us back to the Extreme Meatpunks Forever universe, and to Mas Dida, one last time to conclude the adventures of Viz, Bill, and Rad as they face off against the richest man in the world… and a whole army of cops! This is the second of a two-part continuation from our one-shot using the pre-publication version of Heather Flowers and Aura Belle's TTRPG; we hope you enjoy it as much as we did!
Content warnings are given by Drew at the beginning, but include: body horror, dysmorphia, dismemberment, political violence, and gore. As he notes, we're not being edgelords, that's just the stuff you can expect when meatpunks and fash clash!
Check out Extreme Meatpunks Forever, the TTRPG and the video games!
Join us on Halloween for our next episode, our seasonal spook-tacular, also GMed by Drew!
---
---
"Mas Dida" and the acoustic version of "Theme of the Dice Punks" by Drew Messinger-Michaels.
Cover art from Paulina Ganucheau's cover art for the TTRPG of EXTREME MEATPUNKS FOREVER.
Visit us on the web at dicepunks.com and on Cohost & Tumblr at @dicepunks, or email us as dicepunks@gmail.com! Our Patreon is www.patreon.com/DicePunks — backers can gain access to our patron-only Discord, Dice Peeks aftershow, and more!