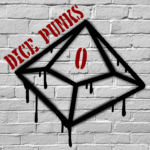 In this episode, our Nobilis search for the Heart of the enemy's Chancel!
---
As the poet said… "A Moment of Violence" by Streetlight Manifesto.
---
"Theme of the Dice Punks" and its acoustic version by Drew Messinger-Michaels.
Art and editing by Joanne Spotswood.
Visit us on the web at dicepunks.com and on Twitter (for now), Cohost, and Tumblr at @dicepunks!