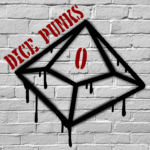 Conversations, vittles, and various relations in this episode of Nightfall!
In case you missed it on Twitter or Patreon, this episode is a little late because Adam had to leave town on short notice to attend a family funeral — thanks for your understanding!
---
As the poet said… "Ghost of Perdition" by Opeth.
---
"Theme of the Dice Punks" and its acoustic version by Drew Messinger-Michaels.
Art by Joanne Spotswood.
Visit us on the web at dicepunks.com and on Twitter at @dicepunks, or email us as dicepunks@gmail.com! Our Patreon is www.patreon.com/DicePunks — backers can gain access to our patron-only Discord, Dice Peeks aftershow, and more!