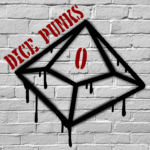 Our Nobilis meet some unexpected fellow-travelers and have a dialogue-focused, vibes-heavy walk through a sylvan night.
---
As the poet said… "King of New Orleans" by Better Than Ezra.
Adam brings it up in the admin section at the end, but instead of a new Nightfall on 1 Nov, we'll be putting out a Halloween Special One-Shot on 31 Oct! Nightfall will resume with 1.35 on 15 Nov.
---
"Theme of the Dice Punks" and its acoustic version by Drew Messinger-Michaels.
Art by Joanne Spotswood.
Visit us on the web at dicepunks.com and on Twitter at @dicepunks, or email us as dicepunks@gmail.com! Our Patreon is www.patreon.com/DicePunks — backers can gain access to our patron-only Discord, Dice Peeks aftershow, and more!