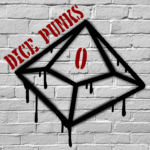 This episode of Nightfall explores what happens to those left behind after apotheosis… and what they may do to those they encounter.
---
As the poet said… "Forgotten Love" by Elis.
Linking Den's fic that we mention in the episode and the Peeks didn't make it into the notes of the episode closest to when it was posted (just due to brain-fog), but we're thrilled to link it here!
---
"Theme of the Dice Punks" and its acoustic version by Drew Messinger-Michaels.
Art by Joanne Spotswood.
Visit us on the web at dicepunks.com and on Twitter at @dicepunks, or email us as dicepunks@gmail.com! Our Patreon is www.patreon.com/DicePunks — backers can gain access to our patron-only Discord, Dice Peeks aftershow, and more!