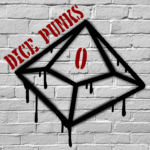 Nightfall continues! In this episode, the party, still in their separate ways, get to the bottom of some things, the top of others, and try their level best to solve some problems between them and finally breaking Palaran's siege on Theret!
---
As comes up in the preamble to the episode, Adam was suffering from the plague during this recording, and there were some issues with the levels, so we think we did a pretty good job with the edit, but there are bound to be some rough edges — DIY, baby!
As the poet said… "Endless War" by Within Temptation.
---
"Theme of the Dice Punks" and its acoustic version by Drew Messinger-Michaels.
Art by Joanne Spotswood.
Visit us on the web at dicepunks.com and on Twitter at @dicepunks, or email us as dicepunks@gmail.com! Our Patreon is www.patreon.com/DicePunks — backers can gain access to our patron-only Discord, Dice Peeks aftershow, and more!