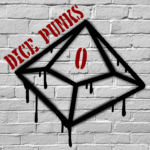 Nightfall continues! In this episode, Lyssa tries date-based diplomacy, Dask tries to manage the relationships he continually complicates, and Ramnet is very, very patient.
---
As the intro will elaborate on, the audio in this one is pretty rough — though as smooth as Adam could get it. Start with a tired voice and some mild illness, throw in a mic problem or two, season with a dash of corrupted data, then try and even it all out in post, and voila! This episode! We hope it sounds okay, and that it won't happen again…
In this episode's Dice Peeks (available on our Patreon!!), we coin a bit of a sub-motto for Dice Punks: "What subtext?"
As the poet said… "The Sun and Moon" by mewithoutyou.
---
"Theme of the Dice Punks" and its acoustic version by Drew Messinger-Michaels.
Art by Joanne Spotswood.
Visit us on the web at dicepunks.com and on Twitter at @dicepunks, or email us as dicepunks@gmail.com! Our Patreon is www.patreon.com/DicePunks — backers can gain access to our patron-only Discord, Dice Peeks aftershow, and more!
---
Dice Punks is licensed under a Creative Commons Attribution-NonCommercial 4.0 International License.