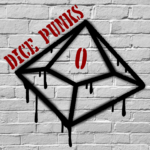 We are very excited to bring you our very first full campaign, Nightfall! Using a combined system of REIGN and Nobilis, and set in our very own brand-new mythic fantasy setting of Mieleth, Nightfall focuses on a couple of unfortunates in the region of Taraxis who find themselves suddenly elevated to demigod status.
---
Number of times 666 has been rolled: 2
As the poet said… "Enter Sandman," by Metallica
The Thrilling Adventure Hour is a lovely "new-time podcast in the style of old-time radio." It's been basically concluded for a while now, though, so it doesn't appear that the behind-the-scenes episode I was referring to is readily available, though. Alas!
Kaya gives Dusa vibes (or, given her preferred address of Lyssa, these vibes, perhaps?)
---
"Theme of the Dice Punks," "Cliffhanger Fanfare," and "Dice Peeks Fanfare" by Drew Messinger-Michaels.
Art by Joanne Spotswood.
Visit us on the web at dicepunks.com and on Twitter at @dicepunks, or email us as dicepunks@gmail.com! Our Patreon is www.patreon.com/DicePunks — backers can gain access to our patron-only Discord, Dice Peeks aftershow, and more!
---
Dice Punks is licensed under a Creative Commons Attribution-NonCommercial 4.0 International License.